In case you didn't read my last post I wish you all a very Happy New Year. Here in France we can go on wishing people a Happy New Year all through January. Tomorrow afternoon the Maire will be extending his annual invitation to all the village to join him and the Conseil to wish each other best wishes for 2012. He will give a quick speech about what's gone on in the village in 2011 and outline plans for 2012. Then we'll have wine and king's cake (Galette des Rois) and whoever finds the favour (fève) hidden in the cake will get to wear a crown! The classic French recipe is almond based but here in the sud ouest they prefer a kind of brioche cake. This will be the third time this year that we'll be eating King's cake so bang goes one resolution!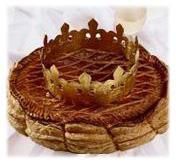 I don't suppose I'm alone in starting every year resolved to exercise more – I was hoping to start cycling but after a scary outing with my daughter over Christmas I have decided that I must build up some stamina first and so am back walking, going to yoga and working out with my favourite celebrity DVD once a week. I've also started running a gym club for the Club des Ainés (the old folks club) on Monday afternoons so that about fulfills that resolution this year.
Walking really is a pleasure as we step out of the door right into beautiful countryside with gorgeous views.
I am an audio book fan and to help me with more tedious jobs I often have my ipod glued to my ear. Recently I was listening to Stephen Fry's autobiography in which he recounts a meeting between a long established professor at an English university and a young newcomer to the common room. Putting his arm around the young man's shoulders he offers this advice – 'Don't try to be clever – we're all clever here – try to be kind'. This seems such good advice that I will adopt it as my 2012 mantra.
So what have you resolved to change, to improve, to continue or to aspire to in 2012? Or like Kevin do you resolve not to make any resolutions? Whatever you are up to in 2012 I wish you every success and happiness – but as everyone says here most of all good health – surtout la santé!